The event aims to build a new community of broadcast engineers and video producers
The inaugural Silicon Valley Video Summit drew more than 400 attendees to the Computer History Museum in Mountain View, CA, last week for a day of presentations and conversations about how tech companies are building their own broadcast infrastructures and producing live video events and corporate video content for internal and external audiences.
Produced by SVG in partnership with the SMPTE San Francisco Chapter, the event featured a keynote by Apple Computer co-founder Steve Wozniak, whose speech and private meeting with local film and television students focused on how NTSC television and, in particular, SMPTE standards were a core basis for his development of the first Apple computer and helped shape his career in electronics engineering. The keynote was produced by SMPTE and featured introductions by former SMPTE President Pat Griffis, VP, technology, Office of the CTO, Dolby Laboratories, and current SMPTE Student Outreach Director John Shike, key account manager, Advanced Systems Group.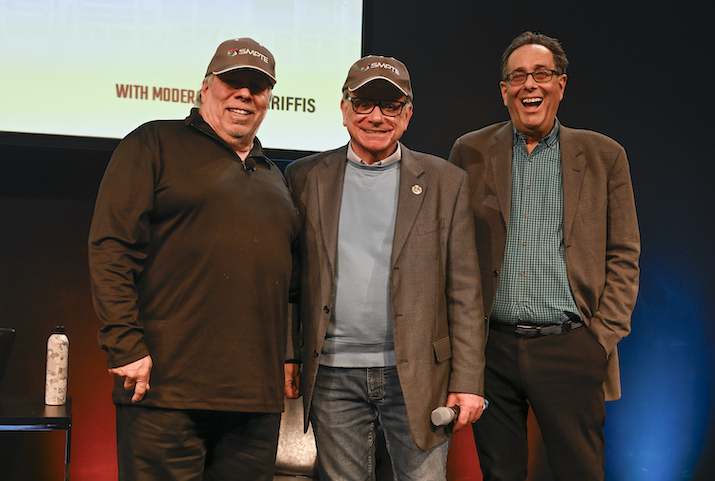 At the Jan. 26 Silicon Valley Video Summit: (from left) Keynoter and Apple co-founder Steve Wozniak, Dolby's Pat Griffis, and SVG's Martin Porter
"SVG's Silicon Valley Video Summit was developed to help establish a new community among Big Tech broadcast engineers and video producers," says SVG Executive Director Martin Porter, who executive-produced the event, "as well as to build a line of communication between SVG's core membership and those technologists who are advancing video technology in the cloud, artificial intelligence, and the metaverse. We'll be back again next year!"
Teams from title sponsors Advanced Systems Group (ASG) and B&H Photo/Video played integral roles in the launch of this SVG-produced annual gathering and professional-community activity.
Programmed under the direction of former Microsoft Chief Production Engineer Peter Thordarson, the day-long program kicked off with a deep dive on SMPTE ST 2110, featuring a case study by LinkedIn about its multi-site video-production infrastructures in multiple regions around the globe.
The presentation was followed by a panel discussion on how SMPTE 2110 is being implemented in corporate environments with input from ASG, Arista Networks, NEP, and LinkedIn. The 2110 segment of the show was topped by a "Future of 2110" panel featuring SMPTE experts Kent Terry, senior manager, sound technology, Office of the CTO, Dolby; John Mailhot, systems architect, IP convergence, Imagine Communications; and Wes Simpson, founder, LearnIPVideo.com.
Since live video production and broadcasts also are a vital topic for this community, three sessions focused on the "digital first" live-video strategies from major tech companies. The discussions examined how the learnings from the pandemic have influenced event producers working for Microsoft, Google, Electronic Arts, and The Global Leadership Network, with engineering input from Conference Technologies, Evertz, Ross Video, and Zoom.
In the keynote presentation, Jeremy Krinitt, senior developer relations manager, NVIDIA, discussed how the introduction of ChatGPT and generative-media solutions (Runway, Lensa, Synthesia) are escalating the use of AI image and video generation for media and entertainment. Another "future facing" discussion between Verizon, Dolby, and Intel addressed the impact of other recent advances in 5G, 8K, and immersive audio on current corporate production workflows.
Accenture Productions Content Lead Mark Yoder moderated a panel on the growing task of managing remote video workforces, which offered input from WebMD, Shootsa, Adobe, and Sony Ci. The use of virtual production for corporate applications was addressed by Erik Weaver, director, adaptive production, Entertainment Technology Center at USC, and a panel comprising experts from NEP-owned Lux Machina, Laney College, American Cinematographer, and Voluminous Studios.
Wrapping up the day of panels, Office Hours-podcast founder Alex Lindsey led a panel of former Meta and Salesforce producers and technologists from disguise and NVIDIA in a spirited debate about creating corporate content for the metaverse.
All session videos from the first Silicon Valley Video Summit will be posted soon. Register here for notification and the link.
Besides title sponsors ASG and B&H, the Silicon Valley Video Summit was supported by Arista, Audio-Technica, Calrec, Clear-Com, Conference Technologies, Dolby.io, EditShare, Evertz, FMC, IHSE USA, Legrand/AV, NEP, Panasonic Connect, Puget Systems, Ross, Signiant, Sony, SMPTE San Francisco Chapter, Systems Innovation, Verizon, Video, VIZRT Group, and Zero Density.
The Silicon Valley Video Summit is scheduled to take place at the Computer History Museum in Mountain View again at the end of January 2024. For more information about the program, contract Executive Producer Martin Porter ([email protected]). To become a sponsor of next year's show, contact Rob Payne ([email protected]) and Andrew Gabel ([email protected]).